From perfectdailygrind.com issued on June, 28th – written by Fernando Pocasangre
Handling never-ending lines of people waiting anxiously for their coffees? Taking complex and extensive drink orders? Serving curious customers new to the specialty coffee world?
Running a specialty coffee shop is tricky business. Long-term success requires you to maintain quality, efficiency, and excellent customer service – but often it can seem like these three points are at war with each other.
Never fear: I've spoken to several industry experts, who agreed to share their tips for success. Here's what they had to say.
KNOW WHAT GOOD SERVICE MEANS TO YOU
What is good service, really? Is it getting customers their orders as quickly as possible? Or is it talking to them and asking about their day, perhaps at the sacrifice of speed? Is it about serving exceptional coffee or about accommodating all requests?
There's more than one way to provide great service, and whichever model you adopt will come to represent your brand. However, very few businesses can succeed if they completely ignore one of the three pillars of service: customer care, quality, and efficiency.
Noah Goodman, Specialty Sales Ambassador at espresso-machine manufacturer Gruppo Cimbali, tells me he likes to break customer service down into two categories: service and hospitality.
"If you're able to make the customer feel like they're being taken care of and that their needs are being met, then you carried out hospitality," he says, "and if you complete a satisfactory beverage in a timely manner, then I think those two together really bring out the customer service to the top of its game."
In other words, customer care requires both quality and efficiency.
And don't forget that every customer will have different expectations. Simon Lewthwaite, Wholesale Account Manager at Caravan Coffee Roasters, emphasises the value of "find[ing] out what's important to that person, then deliver[ing] that with your coffee service, at the table or across the bar."
Start off by deciding what service means for you and your brand, and how that can be carried out across different situations that your baristas might encounter. Because if you don't know what good service is, how can you expect your staff to provide it?
DESIGN YOUR SPACE
Now you know your goals, it's time to create a café layout that will support them. Workspace design is key for smooth operations.
Part of Simon's job is "helping customers to work out the flow of a room, and work with them directly on the build of their bar." He tells me, "There is nothing worse than fighting around a bar designed by an architect, not someone who's worked on a bar."
The right bar design will facilitate customer interactions and improve efficiency. In turn, this will make quality easier and productivity higher. In fact, Simon says that it "can add 10–20 kg to a weekly usage, and ease pressure on a team in an already confined space."
Consider your espresso machine: is it positioned so that baristas can easily access everything they need, without either having to travel too far or feeling too crowded? Can they still face the customer and talk to them while pulling shots?
And what about customer flow? Is it easy for people to work out where they have to go to order and collect their drink? If they have a question or need support, can they locate a barista?
Resolving these points will:
Make it easier for customers to know where to go, improving customer service
Make it easier for baristas to focus on customers, improving customer service
Make it easier for baristas to quickly make coffee, improving efficiency and in turn allowing them to focus on quality and customer service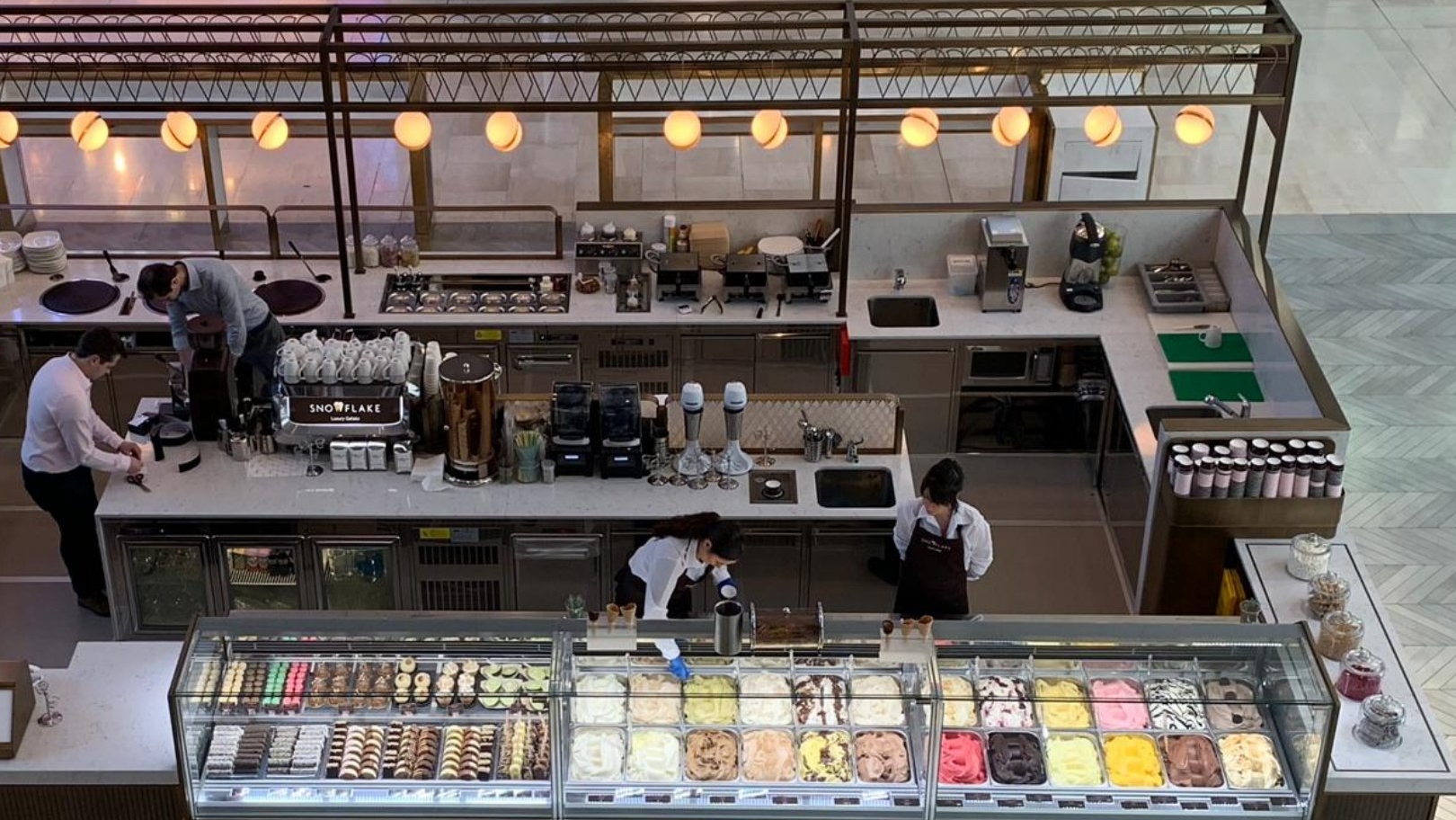 CONSIDER YOUR EQUIPMENT
Your choice of machinery will have a huge impact on all three pillars. And sometimes, it's the small features that can make the biggest difference.
Take pump pressure, for example: this will affect the water flow and, in turn, have an impact on extraction. Often, you have to open up the espresso machine to adjust it. However, Noah points to the Faema E71E and explains that there is "a dial right at the pump and it takes away the need to open the machine to adjust pump pressure."
This makes recipe creation, experimentation, and troubleshooting a lot easier, improving both quality and efficiency.
Remember, if the barista can use the espresso machine more efficiently, they can focus more on customer service. The trick is selecting a machine that will enable staff to use it efficiently without sacrificing quality.
WiFi connectivity can allow espresso machines to connect directly with grinders and therefore ensure the right grind size is being used – something that is essential for great coffee. And touch screens will enable baristas to adjust recipes more quickly, allowing them to spend more time talking to customers.
HIRE THE RIGHT BARISTAS
Customer service skills are just as important as barista skills. In fact, they may even be more important.
Noah says, "When I personally hire people, I look for their personality and their… customer service before barista skills, because barista skills are much easier to teach. It really just starts with being in the moment and smiling and responding to questions with not only the correct answer but the correct attitude."
So what traits should your baristas possess? People skills and communication skills are a given. Don't overlook the importance of meticulousness, positivity, and the ability to remain motivated during long or busy shifts.
Team spirit is also necessary; your baristas cannot efficiently serve customers if they aren't working together. Then there's an openness to learning and the ability to control their emotions.
Baristas with these attributes will be able to provide great customer care, while also learning how to consistently and efficiently serve exceptional coffees.
TRAIN FOR QUALITY
You have the right shop layout, you have the right people, you have the right equipment – but to make sure that everything goes as planned, you also need to provide training.
Even if your baristas are highly experienced, they'll still need to learn your systems. After all, every coffee shop is different. As Noah says, each café "finds their workflow that works for them… depending on their market and the certain volume of their store." And your baristas will need to get used to this.Achieving the golden trio of quality, efficiency, and customer service isn't easy. But actually, they all work together. Good customer service means good-quality coffee served fast. And with the right shop layout, equipment, staff, and training, you can deliver this for your customers.
You should train your baristas on your systems so that everything can run smoothly. At any moment during their shift, they should know who is responsible for certain tasks, what to do if something goes wrong, and who to ask if they don't know something.
They should be trained in all technical barista skills, from steaming milk and adjusting recipes to cleaning equipment, until they can do it well, consistently, and quickly.
And you should also train them on customer care. Simon tells me, "We need to constantly include customer awareness, service skills and efficiency into our training systems."
Achieving the golden trio of quality, efficiency, and customer service isn't easy. But actually, they all work together. Good customer service means good-quality coffee served fast. And with the right shop layout, equipment, staff, and training, you can deliver this for your customers.