Mulmar off-site commercial coffee machine repairs put your valuable equipment in the experienced hands of our fully trained and competent coffee machine engineers, without interrupting your business.
Instead of carrying out your coffee machine repair on-site, we remove the entire system and work on it in our purpose-built workshop. We can provide loan machines to allow your business to continue as normal.
We offer off-site coffee machine services and repairs as part of your planned annual maintenance schedule, to complete one-off espresso machine repairs that cannot take place on-site, or to complete PSSR testing of the espresso boiler vessel and valves.
Types of Off Site Coffee Machine Repairs
Let's look at the different types of off-site commercial coffee machine repairs offered by Mulmar:
Full Annual Service
We recommend a Full Annual Service as part of your preventative maintenance schedule for all commercial espresso machines and bean-to-cup machines.
Our off-site FAS is carried out by trained coffee machine engineers in a controlled workshop environment and can include an espresso boiler inspection with PSSR test.
Our off-site FAS is an extensive strip down service carried out by trained coffee machine engineers in a controlled workshop environment. Items such as seals, gaskets and springs will be replaced, and the serviced machine will undergo a rigorous 32-point QC check before being returned. We can also include a full boiler descale and inspection, which we highly recommend to ensure the continued safety and performance of your machine.
Workshop Repairs
It's rare for our engineers to encounter a problem they cannot repair on-site, but we have a fully equipped workshop in which to work on your machine should this occur. We can also make repairs as part of your full annual service
Boiler Inspections
A regular espresso boiler pressure test is required under the Pressure Systems Safety Regulations 2000 – commonly known as a PSSR test for short.
We recommend including a PSSR pressure test in your annual service, but we can also offer this as a standalone test in our workshop if your PSSR testing schedule does not match your annual service schedule for any reason.
As part of a boiler inspection, our expert coffee machine engineers will:
Open up your machine
Access the boiler vessel, valves and pipework
Check all relevant components and replace them if needed
Reassemble and check the boiler pressure
Fully document the repairs and testing
This ensures that as the owner of the machine, you comply with the safety requirements under the PSSR 2000 legislation.
Find out more about Espresso Machine Boiler Inspections and PSSR Testing.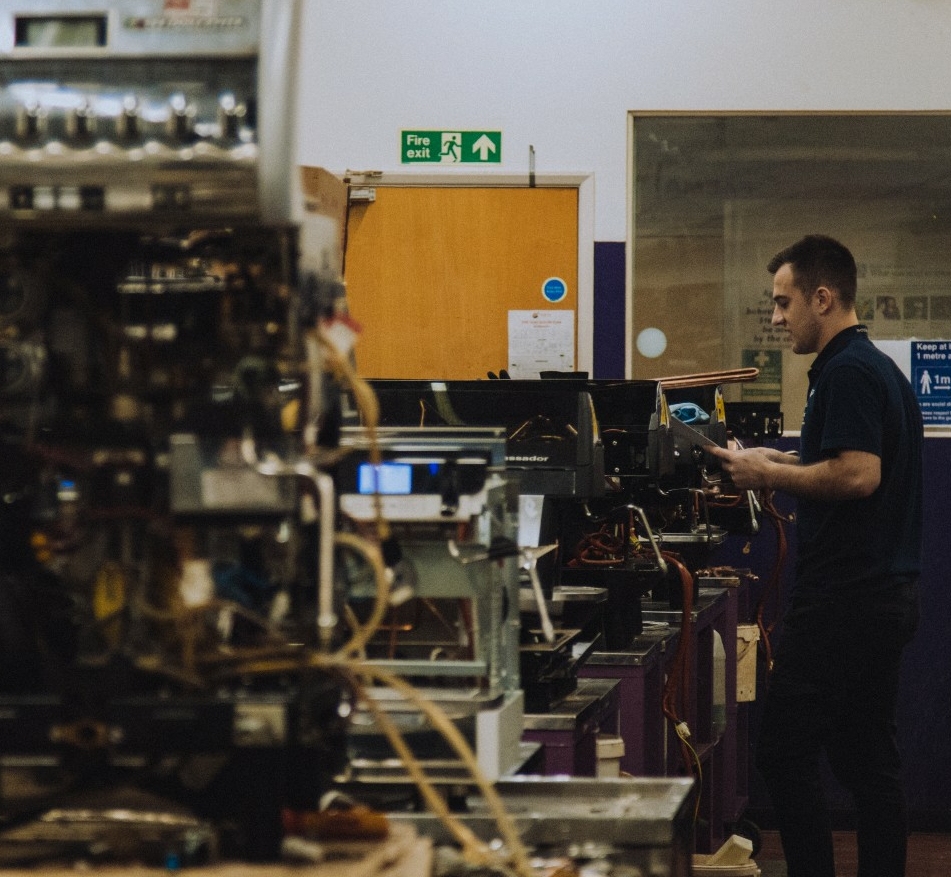 Bespoke Plans and Equipment Customisation
Mulmar works with businesses of all sizes, from independent coffee shops and cafes, to national chains of high street coffee houses and major retailers – and we understand that your coffee machine maintenance needs will vary significantly.
Our espresso machine maintenance and repair plans have been designed to be as flexible as possible, with a choice of on-site and off-site workshop repairs, Full Annual Services, planned and reactive maintenance.
We also offer Equipment Customisation with stainless steel fabrication and made-to-measure work surfaces, to integrate your coffee machine fully for an efficient, hygienic workspace that looks great to customers.
If you would like to know more about any of the above, or to discuss your coffee machine maintenance needs, please contact Mulmar today and one of our fully trained coffee machine engineers will be happy to help.