Specialists In Coffee Shop Fit Outs
If you're looking to transform your coffee shop into a welcoming haven, Mulmar Food Service Solutions is your go-to partner for a seamless coffee shop fit-out experience. As a market leader in the supply, installation, maintenance, and repair of commercial coffee machines and kitchen equipment, we pride ourselves on offering a comprehensive suite of services to bring your coffee shop vision to life.
From Design To Build, We'll Handle The Finer Details
Design
Mulmar believes that the foundation of a successful coffee shop starts with exceptional design. Our experienced team collaborates closely with you to create an interior that reflects your coffee shop's style and individuality. Whether you envision a traditional or modern aesthetic, we are here to make it happen. Our design process includes crucial elements like coffee shop counter design, ensuring that the focal point of your coffee shop aligns with your vision.
Manufacture
At Mulmar, we don't just stop at design. Our skilled in-house joiners craft custom furniture and features to ensure every aspect of your coffee shop fit-out is tailored to perfection. Whether it's a stunning wood coffee shop counter or sleek stainless-steel structures, we use high-quality materials to create an impressive interior that combines aesthetic appeal with durability.
Installation
Our commitment to excellence extends beyond design and manufacturing. We supply end-to-end service, including equipment installation, repair, and customization. Mulmar offers top-of-the-line coffee machines, from espresso machines to milk steamers and dispensers, enhancing productivity and service quality while complementing your coffee shop's interior design. Our team of specially qualified engineers ensures smooth appliance installations and supplies on-site commercial coffee machine repairs when needed.
We Work On Projects Of All Sizes
No coffee shop fit-out project is too small or too large for us to manage. Whether you're planning a cozy coffee shop or a sprawling bar and dining area, Mulmar delivers professional results consistently, regardless of project size. Our extensive database of equipment suppliers enables us to secure competitive prices for all your catering equipment needs.
Whether you're looking to revamp an existing coffee shop or start from scratch, Mulmar Food Service Solutions has the knowledge, resources, and passion to bring your coffee shop vision to life. Contact us today to turn your dream coffee shop into a reality that both you and your customers will love.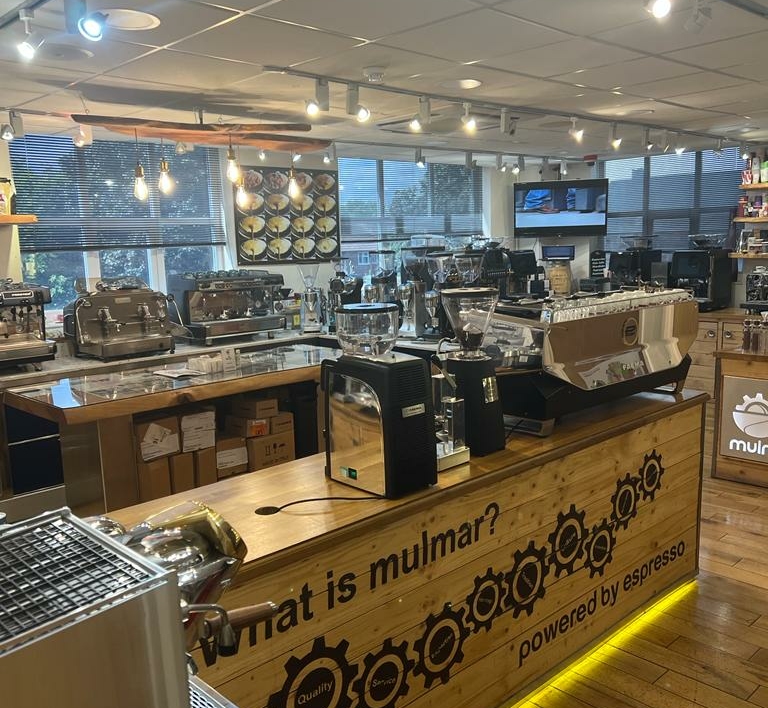 "Mulmar demonstrated at an early stage in our relationship that they are a true partner to Snowflake executing a great service from site selection advise, CAD design through to completion and ongoing service support at all our locations. "
ASAD KHAN , Founder & CEO of Snowflake Luxury Gelato