Why You Should Look After Your Coffee Machine
Coffee machine maintenance should be a regular part of running your business, whether you operate a dedicated coffee shop or another form of hospitality where you serve high-quality espresso to your customers.
A regular professional coffee machine service can keep your espresso machine clean and efficient, as well as reducing the likelihood of needing reactive maintenance at emergency call-out rates or suffering significant downtime from your equipment. It can also include a PSSR coffee machine test, compliant with the minimum requirements for coffee machine pressure tests as defined in the Pressure Systems Safety Regulations 2000.
In this guide we will look at why commercial coffee machine repair and maintenance is so important, as well as some ways in which you can reduce your risk of needing espresso machine repair at short notice.
Maintenance saves money
First and foremost for commercial coffee machine repairs, the business case is simple: planned maintenance saves money by keeping your commercial espresso machine in good condition and reducing the risk of a breakdown.
Inevitable residues build up inside the equipment over time, including leftovers of coffee and milk, and remnants from the water passing through the system. Regular cleaning will limit the damage, but this should be paired with an annual coffee machine service to identify and repair any unavoidable wear and tear caused by these internal build-ups.
Looking after your espresso machine in this way will keep individual parts running for much longer, cutting the cost of expensive coffee machine spare parts and the manpower needed to install them.
Generally speaking, effective maintenance should cost less than emergency espresso machine repairs, by avoiding equipment downtime and short-notice call-out fees.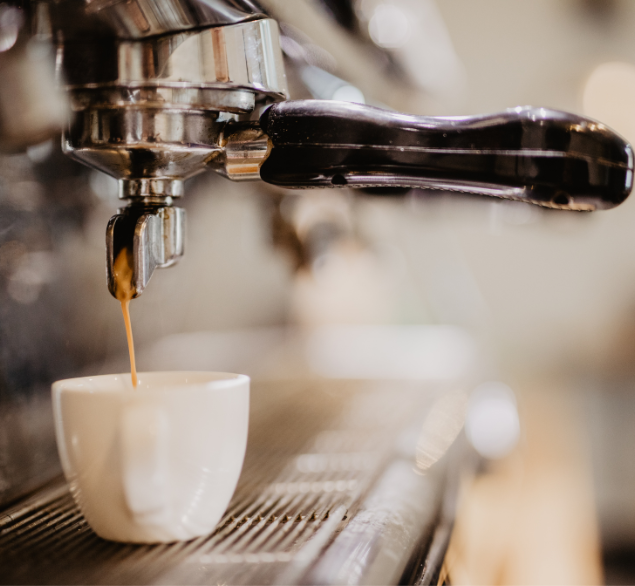 Extend your espresso machine's lifespan
Planned and reactive maintenance together extends the lifespan of your commercial coffee machine, but ultimately all equipment has an expiry date and will eventually need to be replaced.
A significant contributor to the eventual wear-out of a professional coffee machine is the force exerted on it by the high-pressure liquids passing through it at very high temperatures.
For this reason, a PSSR coffee machine test is not only a legal requirement to ensure the safety of your machine, but can also reduce the risk of machine failure when included as a routine part of maintenance.
This should increase the lifespan of your coffee machine, and also reduce the chance of suffering collateral damage to nearby equipment due to an espresso machine failing under maximum pressure.
Ensure customer health and safety
A regular PSSR coffee machine test is a legal requirement in order to protect the health and safety of your customers and employees, by checking the coffee machine's boiler and ensuring it can withstand the very high pressure forces it needs to contain.
However, a coffee machine pressure test is not the only measure you can (and should) take to maximise the health, safety and hygiene of your espresso machine.
A clean machine – inside and out – can reduce bacterial growths like Pseudomonas, which can cause lung infections and is particularly high-risk for those with compromised immune systems.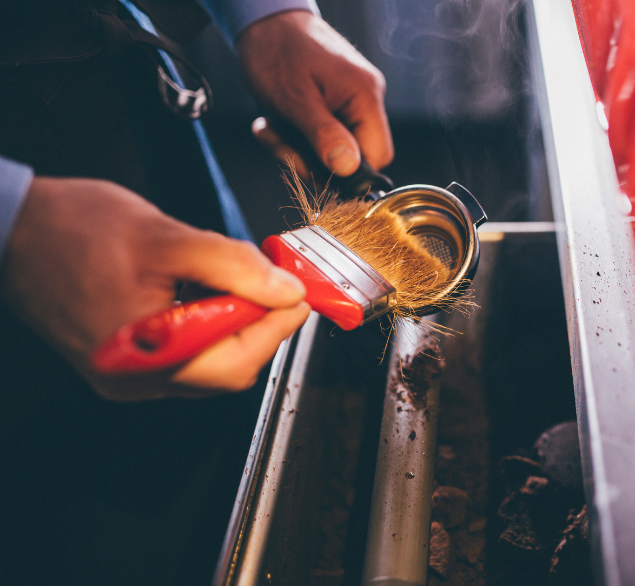 Improve your coffee shop aesthetic
A well-cared-for coffee machine sends the right message to your customers.
Nobody wants their latte or cappuccino made on a machine that's coated in grime and caked-on milk residue, no matter how inevitable these deposits are.
Combine regular cleaning with full, regular maintenance to keep your machine gleaming.
A matter of taste
You've invested in a professional espresso machine to make the best tasting coffee for your customers, so don't let a lack of routine coffee machine maintenance compromise that.
As well as the surface residues mentioned above, espresso machine diffusers can accumulate old, burnt coffee remnants over time, leading to a bitter and metallic taste in your coffee.
Daily cleaning will reduce this build-up, delaying the onset of any unpleasant flavours. Combine this with periodic espresso machine servicing, and you can deliver high-quality coffee 365 days a year.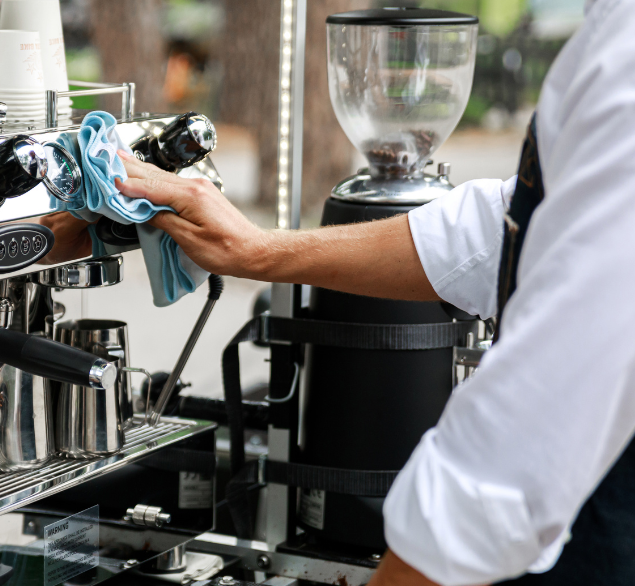 Don't suffer downtime
Planned espresso machine maintenance is a way to avoid downtime.
It's worth reiterating the importance of this, as an unexpected coffee machine failure can cause significant risk of:
Harm to personnel
Collateral damage to nearby equipment
High emergency call-out costs
Financial loss due to sales interruption
Long-term interruption and reputation damage
Always remember that planned maintenance costs less than emergency reactive maintenance, so if you detect a potential fault with your coffee machine, put in a call as soon as possible and have an engineer take a look without an urgent call-out fee. Alternatively, if you plan to rely on reactive call-outs, subscribe to a breakdown cover plan.
This should be routine: a combination of scheduled coffee machine services, standard engineer call-outs for proactive repairs and, in a real emergency, reactive maintenance to mitigate any downtime and financial losses.
Together, these steps enable you to look after your coffee machine all year round, giving you peace of mind that it will deliver great-tasting coffee quickly, safely and efficiently during periods of high demand.
Mulmar coffee machine maintenance
To find out more about our premium coffee machine maintenance services, contact Mulmar today and speak to one of our qualified coffee machine engineers, who can help provide a bespoke solution for your business.