Description
2 Steam wands
1 Hot water wands
Boiler capacity (litres) from 5 to 15 litres
Different models available : Casadio Undici, COMPACT, TALL CUP – see additional information for further details.
Innovative Thermal System
Fixed-nozzle thermosyphon system that's adaptable and high-performing, guaranteeing excellent results in the cup.
Robust and Reliable 
UNDICI is made of steel and aluminium to guarantee the best in robustness and reliability.
Reduced Size and Easy to Use
UNDICI is a compact, elegant, versatile machine that's easy to use, adjust and maintain.
Can be Personalised
UNDICI can be personalised thanks to the new, mechanical button pad with LEDs that make it user-friendly and precise.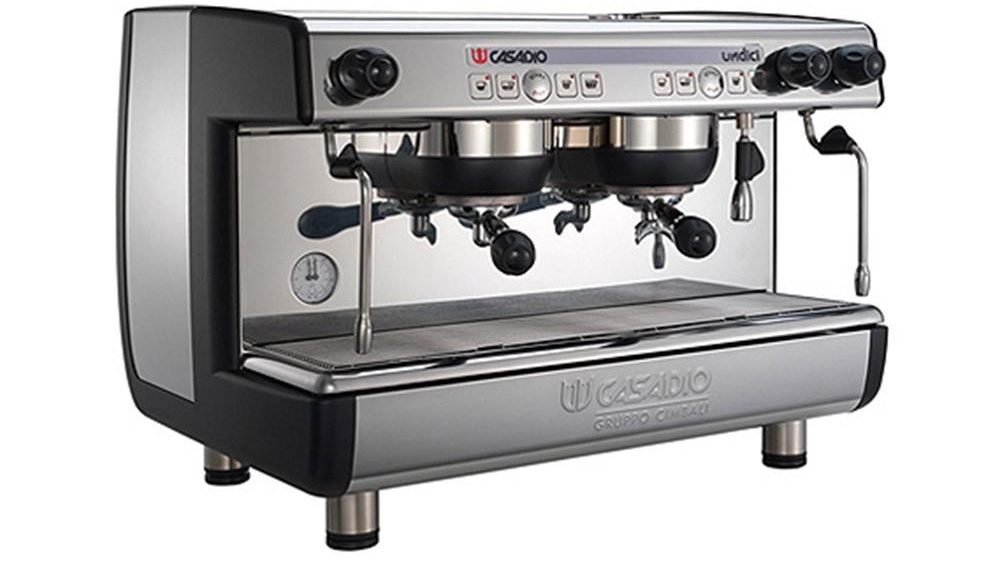 Additional Information
Dimensions
Electrical options
Casadio Undici COMPACT
Casadio Undici COMPACT
2 grp 550 x 528 x 529 (7 litres)
2 grp 240V – 50Hz ~ 3300W – 16 Amp Single Phase
Casadio Undici
Casadio Undici
1 grp 432 x 598 x 570 (5 litres)
1 grp 240V – 50Hz ~ 3300W – 16 Amp Single Phase
2 grp 712 x 598 x 570 (10.5 litres)
2 grp 240V – 50Hz ~ 3300W – 16 Amp Single Phase / 315V – 50Hz ~ 4500W – 10 amp Three Phase
3 grp 922 x 598 x 570 (15 litres)
3 grp 315V – 50Hz ~ 6600W – 10 amp Three Phase
Casadio Undici TALL CUP
Casadio Undici TALL CUP
1 grp 432 x 598 (5 litres)
1 grp 240V – 50Hz ~ 3300W – 16 Amp Single Phase
2 grp 712 x 598 (10.5 litres)
2 grp 240V – 50Hz ~ 3300W – 16 Amp Single Phase / 315V – 50Hz ~ 4500W – 10 amp Three Phase
3 grp 922 x 598 (15 litres)
3 grp 315V – 50Hz ~ 6600W – 10 amp Three Phase