Description
It is built with 71mm conical grinding burrs with a 900 watt motor that spins at 420rpm. Highly suited to very busy cafés who demand a lot from their equipment.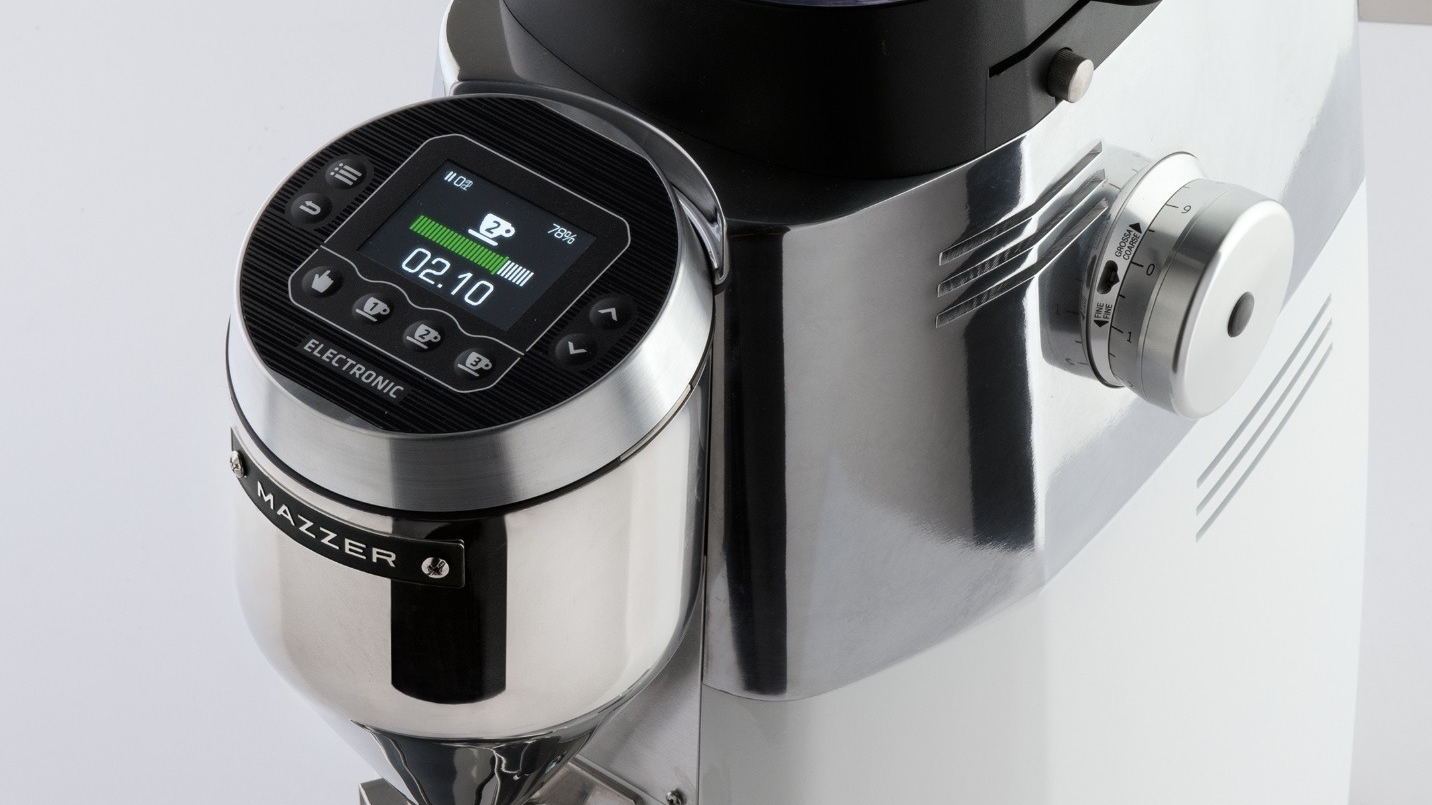 The Mazzer Kold Electronic allows the barista to program a specific grind time for both a single and a double shot using the touch panel on top of the dosing chamber. The graphic display on the panel shows your chosen shot time, as well as keeping record of total shots ground. The programmable single, double and triple buttons can be set in .05 of a second increments. It grinds directly into your portafilter for minimal waste.
The new KOLD S is built following a cool, sleek and forward looking design. Kold S conveys cutting-edge technology and premium quality. Besides enhanced performances in terms of consistency and retention (reduced of 52%), Kold S is characterised by the particular attention it pays to the temperature of the coffee beans. The coffee gets protected against exposure to heat even should grinding times be extended, thanks to a specifically designed mechanical construction and to a double cooling system.
The Mazzer Kold sits above the Robur in the range and is among the largest and most capable machines that they make. Intended purely for heavy commercial use.It has an excellent grinding speed (average for espresso 1.4s/7g) with low RPM (420 RPM – 50 Hz) and a blot driven transmission to keep the motor heat away from the grinding chamber.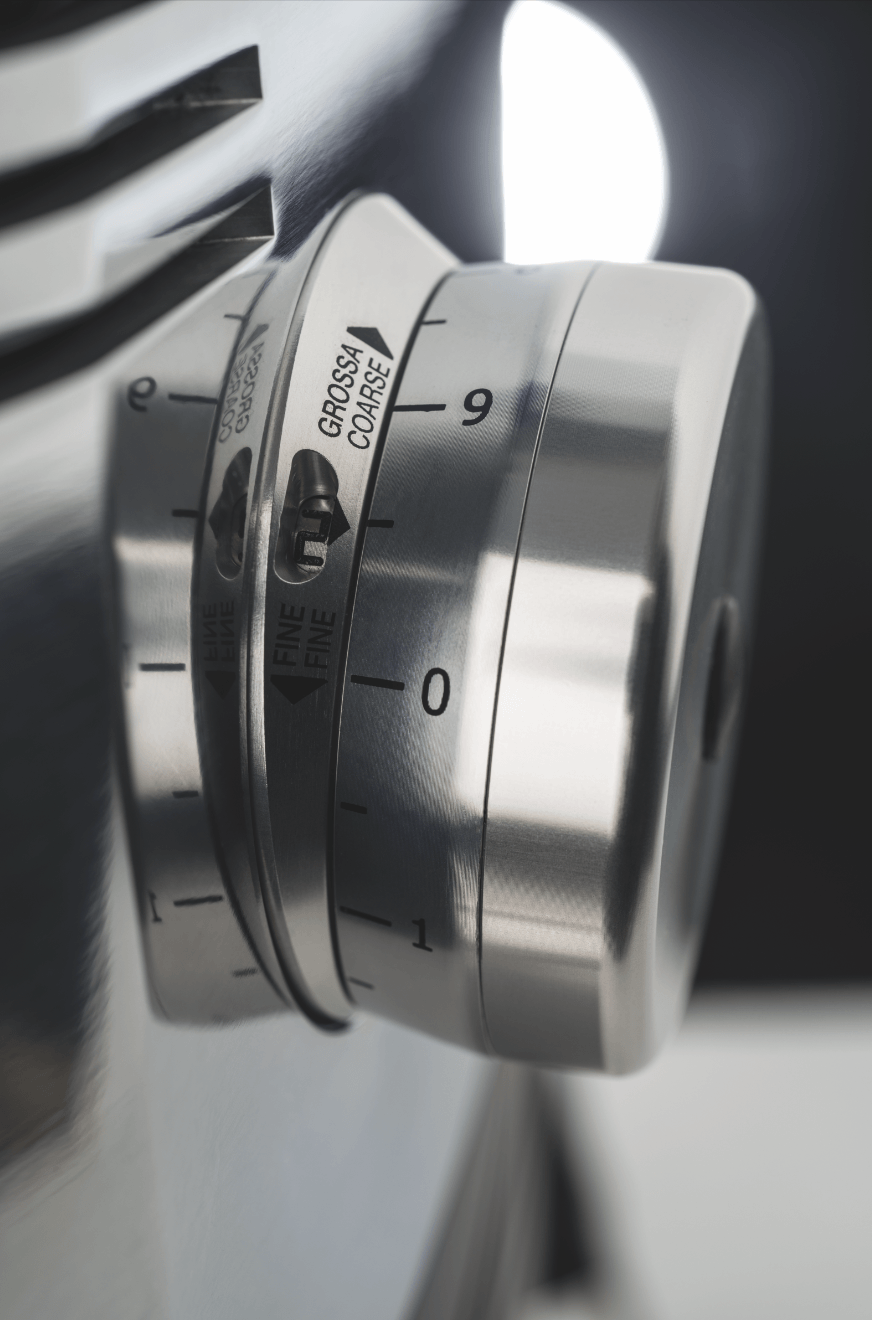 Mazzer grinders are particularly well suited to busy coffee shops thanks to their amazing reliability and industry-leading durability. The sleek and eye-catching design of the Kold guarantees it will take pride of place in your coffee shop or café without looking industrial or unattractive. On the contrary, it is a thing of beauty and something to be admired.
The High Precision Knob with Lap Counter keeps easily the the grind setting in use and allows micrometrical grinding adjustment.
The huge 71mm conical burrs are made using Swedish hardened steel and are considered within the industry to be among the best currently available, meaning they are more durable than many of its' competitors. The innovative design means they are very easy to calibrate and even easier to clean should you need to access the burrs themselves.
The Mazzer Kold coffee grinder weighs around 30 kilograms and is so well engineered that you can expect it to last and last. The attractive finish and very elegant design ensures it looks good wherever you choose to keep it and it will prove to be an investment you can be proud of.
WHAT IS DIFFERENT ABOUT THE MAZZER KOLD?
Mazzer have spent years developing a system that allows coffee to be ground without heat damaging the finished product. In the Mazzer Kold, the motor and the grinding chamber are kept separate, which has the added benefit of making it easier to change the blades. There are just three screws for the grinding chamber, making cleaning even easier.
This model also features a belt driven transmission and a clever electronic ventilation system, both of which help to keep heat to an absolute minimum.
Belt driven grinder with conical grinding blades
Programmable push button operation for single and double shot grind
71mm Conical blades with stepless micrometrical grind adjustment
900 watt motor
Electronic dose adjustment
Digital display with shot counter. Ventilation device with electronic control to keep the motor cool.
Single and double dose with independent adjustment
Specially designed to keep heat to an absolute minimum
Large 1.8kg bean hopper
Additional Information
Dimensions
Electrical options
241mm (w) x 292mm (d) x 635mm (h)
240V – 50Hz ~ 900W – 13 Amps