Description
Why this coffee grinder?
This premium coffee grinder will level up your coffee game with its consistent results, durability, and quality. Simple to use and full of features, the Super Jolly V Pro is the reliable friend of any barista. This coffee grinder even offers Cloud connectivity and optional IoT functionality. This future-proof grinder is the ideal choice for any small-to-medium location to upgrade their coffee.
Top features:
Grind control system
This intuitive feature means no clumping, making sure every coffee is smooth.
Eco-friendly
93% of this coffee grinder is made from premium materials which are easily recyclable.
Consistent results
The Super Jolly V Pro guarantees consistent and perfect results cup after cup.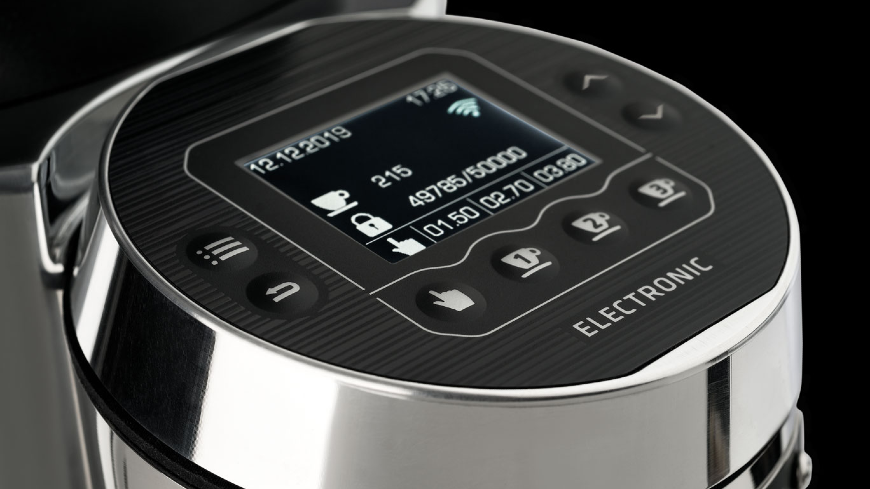 Find out more…
Not only does this coffee grinder surpass expectations with its quality, but the sleek and modern design will also elevate any location. With a choice of 7 eye-catching colours, you can ensure your new addition suits your personality. Jam-packed full of features, you won't be disappointed with this intelligent and iconic coffee grinder.
Technical features:
Use: On Demand
Version: Electronic
Power: 350 watt
Grinding Adjustment: Stepless micrometric grinding adjustment
Burrs: Flat
Standard Burrs: 233M
Diameter standard burrs: Ø 64 mm (2 ½ inches)
Weight: 14 kg (31 lbs)
RPM: 1400 rpm @50Hz | 1600 rpm @60Hz
Body: Aluminum die casting
Hopper capacity: 1.1 kg (2.4 lbs)
GFC: hybrid damper
Cooling system: Double fan cooling system
IoT: Optional
Output: Medium
Extraction method: Espresso
Recordable time settings: 3