Description
Why this coffee grinder?
The Mazzer ZM is the ultimate coffee grinder designed exclusively for specialty coffee lovers. You'll enjoy the benefits of a double-fan cooling system with electronic control, ensuring optimal performance at a low RPM range. The on-demand dosing capability allows you to adjust the grinding time precisely. Say goodbye to messy counters, thanks to the patented lockable canister that keeps coffee grounds in check.
Top Features:
Precision Grind Control
Experience precise and repeatable grind settings with the motor-operated digital adjustment system, allowing you to dial in your desired grind size with accuracy.
Burr Versatility
Choose from specialised burrs designed for different brewing styles, whether it's filter coffee, espresso, or a hybrid option. Unlock the full potential of your favorite brewing methods.
Seamless Workflow Integration
Designed for specialty cafes, the Mazzer ZM features intelligent design elements like a lockable canister to prevent mess, a flip-access digital display for easy cleaning and maintenance, and smart features such as customisable messages and service alerts. It effortlessly integrates into your café's workflow.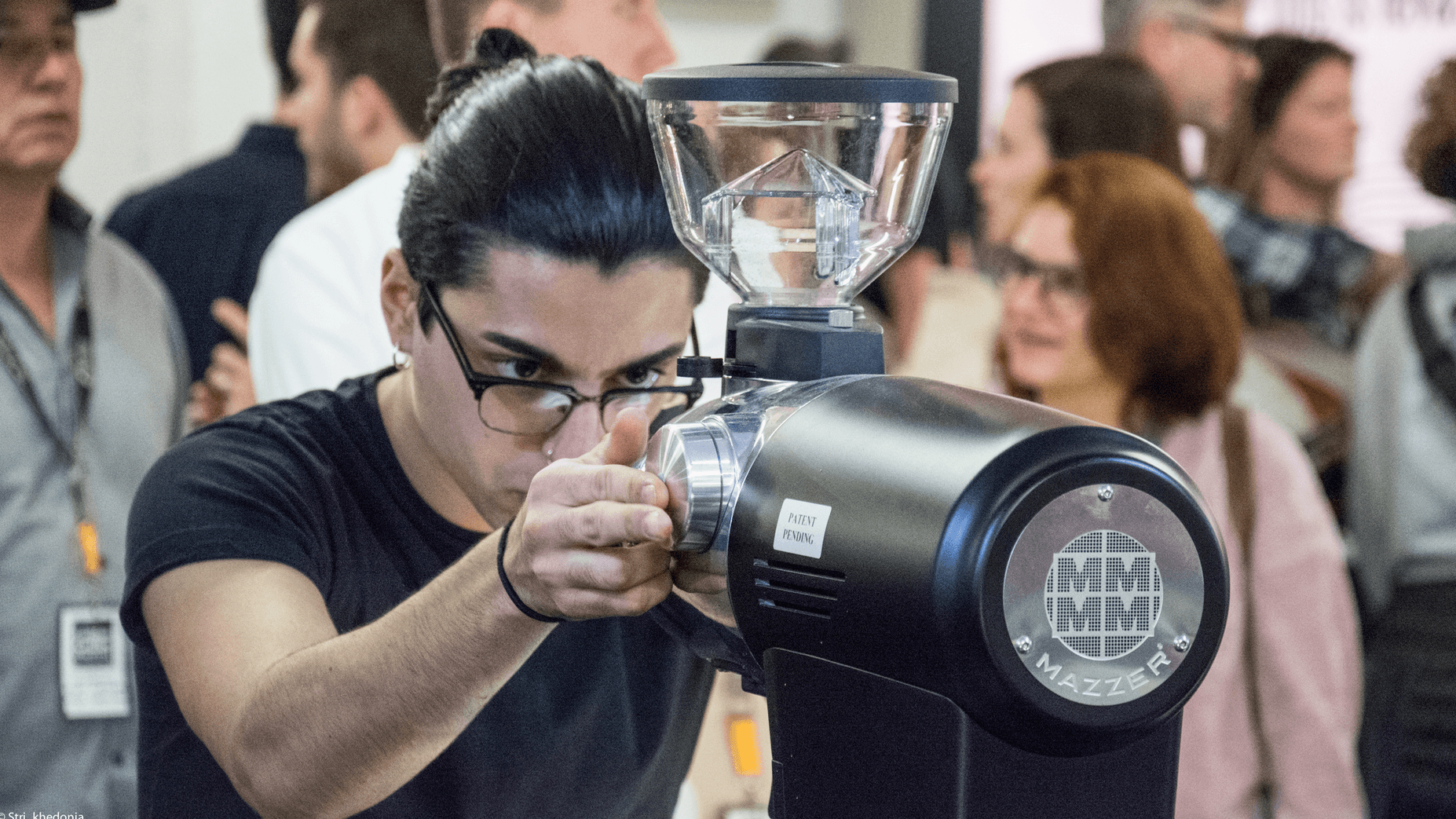 Find out more…
Discover the perfect companion for your specialty coffee journey with the Mazzer ZM coffee grinder. Designed to seamlessly fit your workflow, this coffee grinder boasts intelligent features like a lockable canister, flip-access display, and customisable messages. Elevate your coffee experience with the Mazzer ZM and unlock a world of exceptional flavors with every cup.
Technical Features:
Use: On Demand / Grocery
Version: Electronic
Power: 800 Watt
Grinding Adjustment: Digital Grind Adjustment
Burrs: Flat Special Steel Burrs
Diameter Standard Burrs: Ø 83 mm – 3 1/4 inches
Standard Fitted Burrs: k151F for filter. Upon request k151G filter or K151B espresso or k151I hybrid
Weight: 33 kg (72 lbs)
RPM: 900 rpm @50Hz | 1050 rpm @60Hz
Body: Aluminum Die Casting
Hopper apacity: 0.32 kg (0.7 lbs)
Cooling System: Double Fan Cooling System
Optional Hoppers Measures: 1 | 3 kg (2 | 9 lbs) hopper
Output: Medium
Extraction method: Filter or Espresso
Recordable Grind Settings: 20
Recordable Time Settings: 4