Description
Independent boiler for each group with programmable temperature control.
Long steam wands, extremely ergonomic and cold touch.
New patented GTI thermal balancing system ensures perfect extraction, every time.
Accessible Pump Pressure Adjustment.
3 illuminated electromechanical keys for a quick and intuitive selection
Program brewing time for each group or manually control every shot from pre-infusion timing to extraction.
New ergonomic and intuitive user interface with modern OLED display.
Available in BLACK MATT.
Why is it so special
The patented Faema GTI heating system
Control panel
New steam wands
Adjustable pressure setting
New spray heads
Hot water wand
Range steam lever
A better head: The new groups 
Thanks to the independent groups, the E71E can manage different coffee varieties, respecting the specific temperatures of each one for optimal extraction. Additionally, the hydraulic circuit with a GTi control system guarantees perfect management of coffee infusion times: a perfect combination for simultaneously ensuring high thermal stability and enhancement of each coffee's sensory profile. And thanks to the ergonomic and intuitive display dedicated to each of the groups, it is even simpler to interact with the E71E.
A better hand: The new filter holders
The new, redesigned handles (in the wooden version) are designed to offer maximum ergonomics and comfort. In addition, optional new filter holders in the naked and double shot versions will be available, perfectly illustrating the evolution of the extraction method and the experience that the E71E offers baristas.
More imagination: The new wands
Redesigned to offer greater flexibility, the new wands are one of the machine's most innovative features. Their length has been increased to allow baristas to work with larger milk jugs, while cold touch technology makes the wand grip more ergonomic and secure and facilitates cleaning after use. The articulated wands allow baristas to work in their preferred position with maximum visibility, ensuring perfect frothing every time.
Customisation 
Every barista can customize certain bodywork elements, such as the rear panel, the heads of the new groups and the covers of the steam taps, as well as the filter holder handles.
Stainless steel filter holders also available
Optional backlit back panel
Design award
The international jury has selected the  prizewinning project of  Faema E71E for its "oustanding design".
Faema E71E, developed in collaboration with Italdesign's Industrial Design Division, is among the winners of the Red Dot Awards 2019, one of the world's largest design competitions.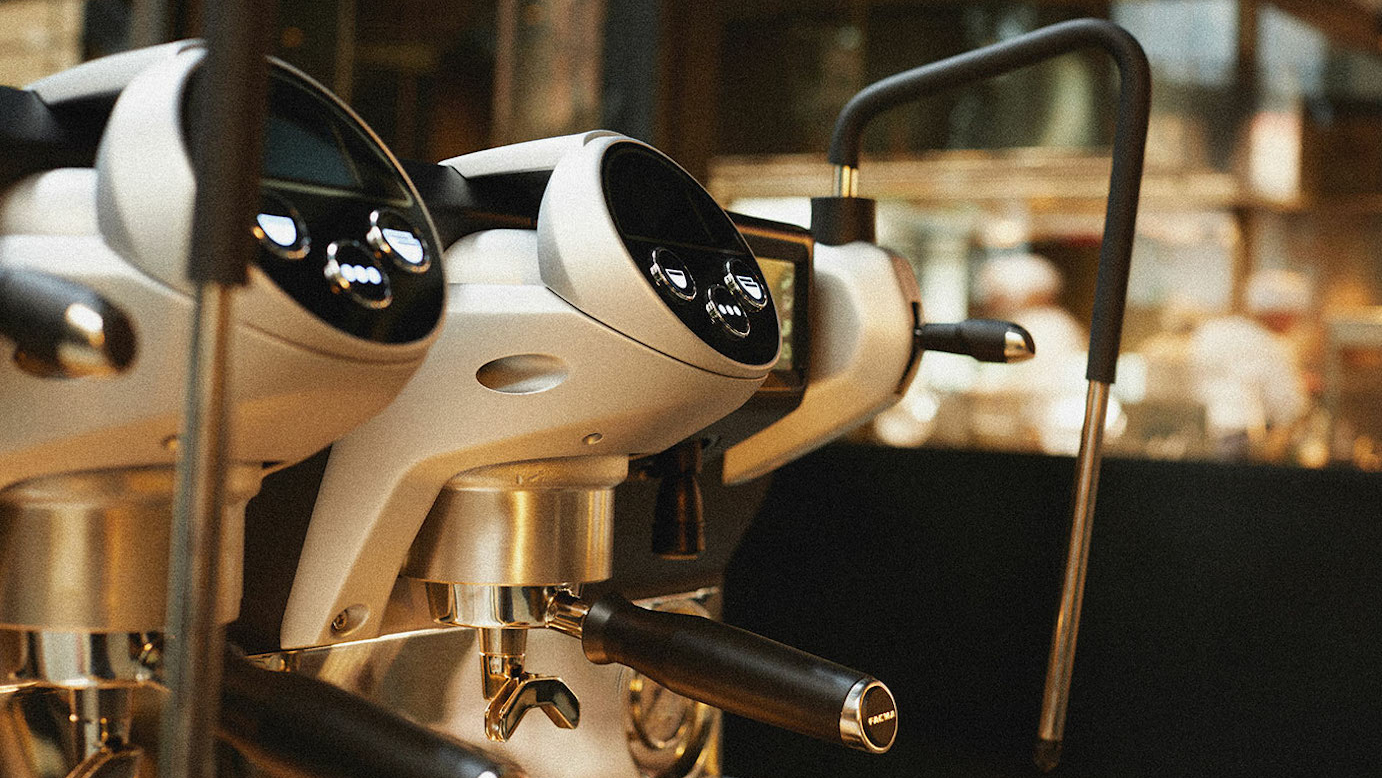 Additional Information
Dimensions
Electrical options
The Coffee Machine has the following dimensions and allowance must be made for the machine to have maintenance work completed on it:
Generic requirements
2 Group 794mm W x 619mm D x 484mm H
Power supply must be located within one meter of machine position
3 Group 1034mm W x 619mm D x 484mm H
Machine must have a local point of power isolation
Single phase requirements 240V / 50Hz / 32 Amp
Three phase requirements 240V / 50Hz / 45 Amp
Single phase requirements 240V / 50Hz / 32 Amp
Three phase requirements 240V / 50Hz / 45 Amp